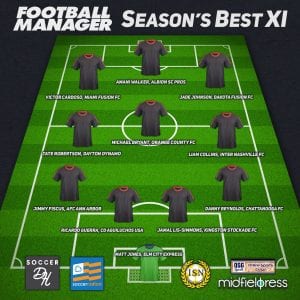 The Football Manager Season's Best XI honors the NPSL's top 11 players from the regular season.
The selections are made by media members from SoccerNation.com, Midfield Press, OSG Sports, Soccer Down Here, and ISNSoccer.com.
The Football Manager Team of the Week honorees from the 2017 NPSL regular season can be found here.
Three other awards will be announced in the coming weeks.
They are the Football Manager Player of the Year, Football Manager Supporters' Choice, and Football Manager Postseason Best XI.
2017 Football Manager Season's Best XI
GK
Matt Jones, Elm City Express
Defender
Ricardo Guerra, CD Aguiluchos USA
Jimmy Fiscus, AFC Ann Arbor
Jamal Lis-Simmons, Kingston Stockade FC
Danny Reynolds, Chattanooga FC
Midfielder
Tate Robertson, Dayton Dynamo
Michael Bryant, Orange County FC
Liam Collins, Inter Nashville FC
Forward
Jade Johnson, Dakota Fusion FC
Victor Cardoso, Miami Fusion FC
Amani Walker, Albion SC PROS