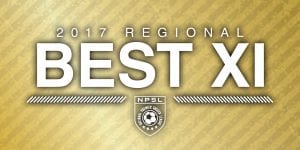 The National Premier Soccer League (NPSL) is proud to announce the recipients of the 2017 NPSL Regional Best XI awards.
The Regional Best XI awards, which include 11 players from each of the league's four regions, were voted on by the teams themselves from July 28th-30th.
For complete details on the league's end of season awards program, please visit www.npsl.com/awards.
Midwest Region Best XI
GK TJ Tomasso, AFC Ann Arbor
D Tendai Jirira, AFC Ann Arbor
D Ashley Phillips, Erie Commodores
D Seb Harris, Detroit City FC
D Baye Kebe, Dayton Dynamo
M Cyrus Saydee, Detroit City FC
M Martin Browne, Minneapolis City SC
M Tate Robertson, Dayton Dynamo
F Kyle Farrar, Duluth FC
F Jade Johnson, Dakota Fusion FC
F Akean Shackleford, FC Buffalo
Northeast Region Best XI
GK Steve Skonieczny, Kingston Stockade FC
D Michael Rincon, Boston City FC
D Nicholas Sica, New Jersey Copa FC
D Dominick Falanga, Brooklyn Italians SC
D Scott Zobre, Kingston Stockade FC
M Cristhian Hernandez. Elm City Express
M Isaac Nana Addai, Boston City FC
M Fabian Lifka, Brooklyn Italians
F Tavoy Morgan, Elm City Express
F Pedro Espindola, Kingston Stockade FC
F Raphael Araujo, New Jersey Copa FC
West Region Best XI
GK Andrew Weber, FC Arizona
D Kuba Waligorski, Albion SC PROS
D Jon Guse, FC Arizona
D Tyler LaCourse, Kitsap SC
D Steven Lamberta, Temecula FC
M Danny Cuevas, Sacramento Gold FC
M Jesus Sanchez, Kitsap SC
M Jorge Butron, East Bay FC Stompers
F Amani Walker, Albion SC PROS
F Cesar Mexia, FC Arizona
F Alessandro Canale, Orange County FC
South Region Best XI
GK Hayden Coffman, Inter Nashville FC
D Richie Reichenberger, Inter Nashville FC
D James Togbah, FC Wichita
D Nicholas Doyle, Little Rock Rangers
D Joseph Cervantes, Fort Worth Vaqueros
M Matt Clare, FC Wichita
M Joe Garcia, Tulsa Athletic
M Alex VonHolle, Midland-Odessa FC
F Elma N'For, Asheville City SC
F Tim Baker, Knoxville Force
F Jon Evans, New Orleans Jesters