Konami Digital Entertainment, Inc. today announces the release of PES 2018 Mobile, replacing the PES 2017 version.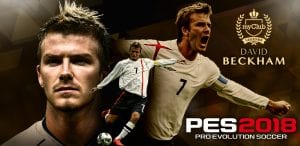 To celebrate, PES 2018 Mobile features world-renowned football Legend David Beckham as he joins the mobile game for the first time. Other Legends will also make their way to the game shortly after launch including high-profile names such as Diego Maradona, Romário, Ian Rush, Steven Gerrard, and Michael Owen. Fans will be able to select their favorite Legends to play alongside current superstars and create their ultimate dream team.
KONAMI also introduces a newly added 'Friend' feature. By registering their friends on this new feature, users can enhance their experience by playing against them in real-time anywhere in the world.
The 'Local Matches' feature returns as well enabling users to create their own tournaments with Local Leagues and play against fellow PES 2018 Mobile players in heated, local league matches to see whose team will come out on top.
Other updates to the game include:
A new Data Pack that includes updates to teams, players and coaches as well new player portraits
Half-price contract renewals
New controls such as chip shot and controlled shot
New visuals and soundtrack
Adjustment to the match balance
For more information visit: https://www.konami.com/wepes/mobile/en/.