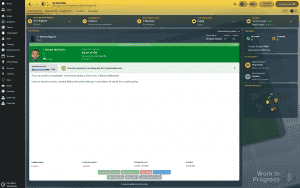 Launch Day for Football Manger fans (fanatics might be a better word) is the equivalent of Christmas, a holiday you think about and look forward to all year.  It's great knowing that buying the newest edition FM will keep you busy and happy until that same time next year.  It is absolutely, unquestionably the best value in gaming.  It will provide you with countless hours, rather weeks and months, of pure footballing enjoyment.
Football Manager 2018 is the most comprehensive sports management game ever created.  It allows you to take the controls of a team from five continents and run it your way for years to come.  You can take on challenges of varying kinds and difficulties from the Premier League in England to less-known leagues in Hong Kong, Malaysia, Indonesia, Singapore and Belarus.  Interactions with players, staff, fans, and media are more realistic than ever.  And every season is different just like real life.  Experience incredible success one season and crushing defeat the next.  Sometimes things go well and sometimes they don't.
It all starts with options and choices, lots of choices.  You can choose to play in Career, Fantasy Draft, Online Career, and Create-A-Club mode.  Everything is able to be personalized, from your manager to endless formations, tactics, and instructions.  Your manager's appearance, experience, license and playing style are all up for grabs.
Improvements in the areas of scouting, graphics, and AI are all easy to see and enjoy, but that's not to say that Football Manager 2017 was a bad game.  It was the best game we ever played, that is until now.  The staff at Sports Interactive has a wonderful habit of improving on perfection and the end result is the best FM (and football) game ever created.  The difference between FM and the competition (if that's what you want to call it) is simple: Sports Interactive cares about the game and the people who play it and it shows.
Buy Football Manager 2018 and you certainly won't regret it.  You're buying a year of entertainment and it's an absolute bargain for a chance to pursue your dreams.  Maybe you can be the next Vugar Huseynzade or John Boileau, someone that tries to bring your FM triumphs into real life.  Or you can be FM fanatics like many of us here at ISN.  We've read the books, watched the documentary, and enjoy the game each and every year.
Yes, it's a game, but it's a game with depth, so much depth that it makes the FIFA and Pro Evolution series seem absolutely mindless.  FM offers you a chance to stretch your football mind over and over again.  There is something for everyone in FM 2018.