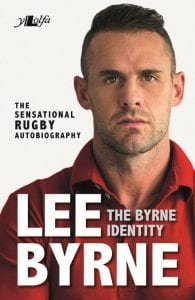 The buzz surrounding The Byrne Identity is quite real.   Already dubbed "the rugby book of the year" by Wales on Sunday, Lee Byrne's autobiography proves to be world-class in every regard.  It is a great read from cover to cover, an enjoyable journey through the life of a great athlete and professional rugby as a whole.
Thanks to the contributions of co-author Richard Morgan, Byrne chronicles a decorated career through some absolutely incredible storytelling.  Morgan is a television journalist who also spent eight years working as a sports reporter. He has covered three Wales Grand Slams and two World Cup campaigns, including Wales' run to the semi-final in 2011. He also covered the British and Irish Lions tour of New Zealand in 2005 and produced ITV Wales' 2015 World Cup highlights programmes.  Simply put, Morgan brought a lot to this project.
The book shares every aspect of Byrne's life from his unlikely rise to rugby stardom and the pinnacle of sport.  You'll be inspired by his journey from humble beginnings and the fact that he overcame obstacles like dyslexia, injuries, depression, and gambling.   The behind-the-scenes perspective offered by this text also gives you insight into his teammates, managers, and clubs.
Byrne's success is unparalleled: a Grand Slam winner, a British and Irish Lion, a Heineken Cup finalist, and three-time Pro12 champion to go with 46 caps for mighty Wales.  Success didn't come easy or without a roller coaster of events for Byrne, but he still achieved so much.  He proved to be one of the greatest players of his generation and one of the top Welsh players of all-time.  Finally we have a text worthy of his life and career.
It's definitely "rugby book of the year," but we'll go a step further and say it is the best rugby book we've ever read.  It's that good and Byrne, Morgan, and Y Lolfa deserve all the credit.