The Columbus soccer community expanded on Friday in the form of a National Premier Soccer League (NPSL) expansion team in FC Columbus.
The NPSL announced that FC Columbus will be joining the league for the upcoming season and that it will be competing in the Midwest Region's Great Lakes Conference. The NPSL's newest team will begin play immediately during the upcoming season in May, playing home games in the Grandview Heights suburb. The stadium sits 1,500 fans and will feature a newly-installed turf field.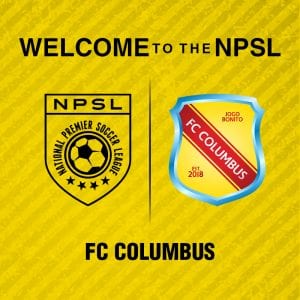 "We are thrilled to bring the NPSL to Columbus, one of the truly great soccer markets in North America," NPSL Chairman Joe Barone said. "We have been working with this group since early summer and we are excited to have them as part of the NPSL family. Ohio deserves great soccer and we are confident that FC Columbus will deliver an exemplary product on and off the field."
The news arrives amid a tumultuous time for soccer fans in Ohio's capital city. With the possible relocation of Columbus Crew SC looming, FC Columbus and the NPSL will enter new territory within the community.
The NPSL's newest club was founded by Owner/Coach Maziya Chete in 1995 as the Santos Futbol Club with a single U-15 girls team. The club has now grown to over 300 athletes, having placed several in Spain and Sweden. Also involved in leading the club will be Co-Founder/Coach Seymour Alleyne, General Manager Darrell Hughes and Game Day Manager Analisa Trares.
"This came about long before even the Crew came to town," Chete said. "This is a vision that I had when I started coaching way back in 1992. In terms of having the idea of developing a club and where that club will end up 20 years down the road. The transition from youth program to professional team has always been the vision."
Chete sees benefits for his club and the city regardless of what transpires in the future for the MLS-original Crew SC. He noted that his goal for soccer players in Columbus is to see in person what high-level soccer looks like due to the overwhelming benefits compared to just playing it individually. The more soccer exposure, the better, he says.
"If they leave, then that gap will entice individuals who want to help to grow this program to fill that gap," Chete said. "Because there will be a gap if they leave. If they don't leave, then it will just be another opportunity for players to be exposed even to the Crew or to other MLS teams."
Despite realizing his dream of over 20 years, Chete has much larger aspirations for himself and FC Columbus. He wants to compete with and beat MLS teams and coach his team to a U.S. Open Cup and FIFA Club World Cup.
Player development is another priority for Chete and the leadership of FC Columbus. He expressed the desire to raise the level of his players to a point where one day there would be FC Columbus-alumni in MLS, on the U.S. Men's National Team and on FC Barcelona or Real Madrid.
When given the opportunity, the FC Columbus boss spoke directly to Columbus soccer fans and said to expect an exciting team, a team that won't "play not to lose." He knows it may take time to win over Ohio soccer fans, but Chete wants them to share in the joy that he expects his team will have.
"We want them to share in championship moments, lifting that cup," Chete said. "That is our objective. We're not just here just to be a part of the soccer community. We want to be an integral part of it. We want to be the transformative team that takes soccer to another level within the U.S."