Alex Riggs knows pro soccer, having played for three major clubs here in the U.S.  It all started with a decorated career at Missouri State University where he appeared in 64 matches from 2006 to 2010..  He compiled a record of 28-25-10 during his tenure with 279 saves.  His college GAA was a impressive 0.92.  His 6'4″ frame and freakish athletic ability made him an excellent prospect coming out of college.
"Looking back on college it's hard to believe it was so many years ago, feels like yesterday," Riggs said. "There isn't any one specific game or season that really stands out.  We won some and we lost some, but that feeling of team is something that stays with you far beyond those playing days. I could step into a room with 30 guys that I haven't seen in years and we would pick up right where we left off."
Riggs won a lot of awards during his career, but none was sweeter than being the first recipient of the Bill Rowe Student Athlete of the Year award, which was voted on by his student-athlete peers in Missouri State's 16 intercollegiate athletic programs.
It should come as no surprise that  the Columbus Crew came knocking with a contract in 2011 and he was able to later play with Sporting KC and Saint Louis FC.   Today he owns his own performance training business, Riggs Performance Training (RPT), in St. Louis.
"When I finished playing, I was not sure what I wanted to do," Riggs commented. "One of the many fears that all athletes dread when that time comes.  When I left Missouri State University and signed with the Columbus Crew, there was one thing I was certain of, I needed to finish college.  I recall studying on long road trips, carrying books to and from practice and having all my exams proctored at approved testing sites nearby."
Riggs was able to find the perfect mix, putting his love of soccer together with a strong business background.
"Having a business degree gave me something to fall back on, a sense of comfort, but I knew I wanted to stay around athletics.  So, I started coaching for a local soccer club and took note of all the areas that could use improvement.  Successful athletes are always detail orientated.  With that concept in mind, I searched for little flaws and overlooked aspects pertaining to each player that might add immediate growth in the short term, igniting that spark that leads to long-term growth.  I went to the directors of the club, said I wanted to start a strength and conditioning program.  Shortly after that I started RPT."
The project, like his playing career, was a tremendous success with over 150 athletes currently  benefiting from Riggs' expert tutelage.
"My goal is simple, build a community of like-minded athletes that push and motivate each other to pursue their goals.  One of the single greatest pieces of advice I have received is 'if you wish success on others, success will find you.'"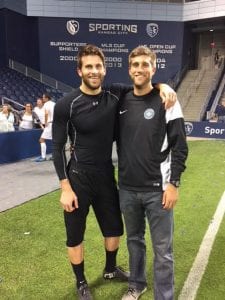 Riggs' success on the pitch and in the gym is built off a passion for the beautiful game and he was quick to share his thoughts on his former team and the overall state of U.S. soccer.  His time with the Crew was quite memorable.
"My time with Columbus was awesome, especially since it was my rookie year.  The games were fast, the competition was high and the players worked for each other.  It was a dream environment, but it was certainly noticeable that our stadium, fan base, and over ll interest wasn't as notable as our competition.  However, Ohio state football made it very difficult.  It was a football town, not soccer unfortunately.   The fans that were in attendance, especially the North Corner were fantastic, engaged, and passionate.  From a business standpoint, I always wondered if the organization was profitable.  There are a lot of open seats in the stands. "
His concerns about the club's profitability and business model are quite unique.
"I don't know how the front office operated, or what the challenges were in terms of increasing season ticket holders and overall interest, but massive action needs to be taken to turn a club around.  I am from St. Louis, and a fan of the Rams, but they were not successful.  The system wasn't working, the culture was a bust and the losing mentality took a toll on the community and the Rams players.  Not to mention they negatively represented the NFL and ownership group.  They took massive action, and moved out west.  Now look where they are at.  They have a new look and a fresh start.  They gained momentum and a new sense of confidence that would have never happened in St. Louis.  The Crew moving to Austin might be the only option for the organization.  Live to fight another day."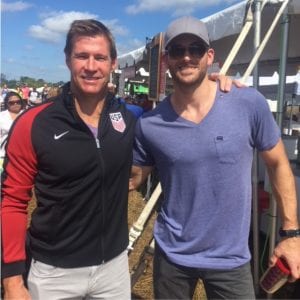 While Riggs offers a different perspective on #SavetheCrew, his thoughts on U.S. Soccer as a whole are quite easy to connect with.
"The U.S. isn't the first big country to miss the out on the World Cup.  It's not the end all be all, but it certainly slows the momentum for the growth of MLS.  I have noticed a shift in youth development, where parents are pushing kids away from football because of concussions and by default, into soccer.  For those parents or athletes reluctant to accept the change of venue, a solid showing in the World Cup could have changed minds and got people excited about soccer, rather than being scared of playing football for fears of injury.  A big opportunity missed."
Alex Riggs is a name to remember as a former player with bold opinions and a rising force in the business world.  That's an impressive combination to say the least.
All Photos Provided by Alex Riggs