Being a nation that has won the Copa America 15 times with a population of only three million, children born in Uruguay are soccer players until proven otherwise. There was never a doubt about Maxi Viera.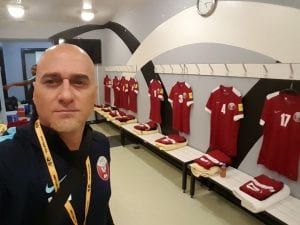 It was announced earlier this month by FC Arizona Owner Scott Taylor that the defending Southwest Conference champions had found their new head coach in Viera. He boasts over 35 years of soccer experience, including playing for clubs in Uruguay, Ecuador, Chile and the United States.
Viera moved to the United States for good in the late 1990s, playing for early MLS teams and starting a family. Viera is a longtime Arizona resident, outside of an interesting two-year jaunt he took in 2015 to be an assistant coach for the Qatari National team.
Viera was part of a staff that led Qatar to its first Asian Cup by way of direct qualification. His teams went toe-to-toe with larger nations like China and played against Iran in front of 118,000 fans.
"Qatar made me grow as a coach in an unbelievable way and we faced oppositions that were tremendous," Viera said. "I think the Qataris, they understood that you have to work hard to accomplish many things. I think in many aspects of here in the states and on the west side of the U.S., it's kind of similar with the young players."
The plan has been in place for Viera to coach FC Arizona since around last November, according to Taylor. Viera has spent much of his time since returning to the states from Qatar building a roster. He has reached out to members of last year's team, and even took a recruiting trip abroad to countries he played in.
The ability to recruit new players locally will be a strong suit for Viera as well. FC Arizona held tryouts recently, and the Phoenix resident knew many players that attended.

"You know what to expect after 15 to 16 years," Viera said. "I've been watching soccer and coaching in Arizona in the past and it gets to the point where you know what teams to watch, what leagues to watch."
Viera said fans can expect a style similar to that of Atletico Madrid. He described a team that would play more tactical than technical, while staying balanced and always prepared for transition play.
The sport has grown in the U.S. since Viera's arrival years ago, but he still sees small ways that the game could be improved domestically. He's an advocate for more training and professional experience for developing players within the age ranks of 18 to 23. He believes it could benefit both those players and the countries' level in international play.
"A lot of them, they're going through school," Viera said. "They have to go for an education. Missing key years in their soccer life from 18 to 22 or 23. That's what I would like to see for the U.S., because in the other countries, they have a little better development so far."
The NPSL has an opportunity to aid in bridging that gap and improving soccer in the country as a whole, Viera said.
"Based on my experience, my games that I've played around the world, and the realistic expectations of each player and how hard you're working for your dreams, NPSL is a hidden treasure that the U.S. has," Viera said. "If you have the right people there, it could become huge."
Viera will attempt to be a catalyst for emerging talent in the NPSL, but he will do it from the comfort of home in Arizona with his family. He has a wife and two teenage sons that he was away from for the majority of his time in Qatar. Viera would often wake in the middle of he night to video chat with his family, dealing with the 11-hour time difference.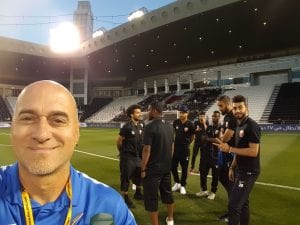 Soccer has always been a family affair for the Uruguayan, whose father, Milton, led a legendary career that yielded a multitude of championships in Greece and national team appearances for his home country.
Milton instilled consistency to his son, but was never too close to his game, never overbearing. When Maxi won his first championship, he returned home late at night expecting his family to be asleep. They were not, and they celebrated together. Maxi's father was grateful to his son that another championship had finally been brought to the house.
"When we went to Qatar, I used a lot of things that my dad told me," Viera said. "A lot of things that I learned in my career, I mixed it up. It's based on belief and working hard, and that's what I'm trying to bring to the states, to the NPSL."
Photos Provided by FC Arizona/Maxi Viera