There's a plethora of books coming out in preparation for this summer's World Cup, but none has the appeal of Sebastian Abbot's The Away Game: The Epic Search for Soccer's Next Superstars.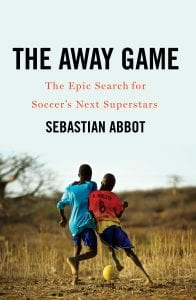 The offering from W.W. Norton & Company is the definitive discussion of the Football Dreams program, often referred to the world's largest soccer talent search.  The program, labelled as both controversial and ambitious, was the brainchild of the Spaniard responsible for developing the genius of Messi.  It gave hope to millions of Africans, hope of a pro career at the biggest clubs, but only a select few would be chosen.  The prize was simple: the opportunity to train at the world's top sporting facilities with an eye to the next level.   It was a chance for a better life and a chance to chase the biggest of dreams.  It's a real "rags to riches" story.
You'll find that this text is an exhilarating blend of storytelling, investigative reporting, and sports theory.  You'll hear the roller coaster journeys of those who made it and those who did not.  Some found happiness at the highest level of the game; others were dismantled with heartbreak and disappointment. You'll find great nuggets of knowledge in the area of player development, organizational structure, and scouting networks.
The book does a beautiful job of bringing the discussion in at different levels.  You'll hear about the Qatari approach to the national team and at the same time, how players, scouts, and coaches fit into the larger program.  It was a quite a transition from the Third World to the unparalleled wealth of the Middle East.  Some made it look quite easy, but for others it was just too much.
Football Dreams is just one way that Qatar has changed the beautiful game, hosting the World Cup and buying global sporting brands such as PSG are two others.  It's changed the game and we can't ever go back.
If you are to buy one book in 2018, The Away Game is your best chance to experience the very best, the royalty of football literature.  It is a tremendous read from a philosophical standpoint, but it also have the human element brought out by storytelling reminiscent of Twain, Fitzgerald, and Hemingway.  It's quite brilliant from start to finish, a true joy to prepare you for a summer of great soccer.  It's easily our favorite read of the year.