All seemed to be lost in Ohio soccer in mid-December of 2017.   Columbus Crew SC announced a possible relocation to Austin, TX in October.  That was followed by an unexpected hiatus from Dayton Dynamo FC in November.  By mid-December, the possibility of no high-level soccer in the Buckeye State became a reality with the folding of AFC Cleveland.
But now months later, in early April of 2018, hope has been restored.
The Save the Crew movement continues to stay relevant thanks to the work of passionate supporters, local businessman, and surprisingly enough Ohio politicians.
But The most important work may be happening in Grandview Heights and Northeast Ohio. NPSL expansion sides FC Columbus and Cleveland SC have made incredible strides in building a fan base and a community-centric club in a matter of a few months.  It's quite remarkable.
The fact that a home and away series between the two NPSL clubs will be played later this month, well, is all the more exciting and incredible.  Fans won't have to wait until May to see their new favorite clubs.  And most importantly, fans and supporters disgusted with Precourt Sports Ventures now have a positive outlet for their frustration, supporting the new kid on the block.
Frustration is not isolated to Central Ohio.  Fans, players, and staff of AFC Cleveland were disgusted when their team folded and like Columbus, they didn't give up.  They fought to save the beautiful game in the 6th City and they won thanks to the dedication of Samuel Seibert, Coletun Long, Chris Cvecko, Thomas Beck, and many others at the new Cleveland SC.
A great rivalry comes to life on April 13th when FC Columbus travels to Medina County's Highland Stadium to face off against Cleveland SC.  The Northeast Ohio team will return the favor just two days later, heading to Grandview Heights.  Expectations are high for this series.
FC Columbus' J.J. Bain, a man with different titles and roles, knows that these first steps are quite important.
"We believe a lot of the support comes from the idea that the fans can embark on this journey with the club and bring together communities. These two communities have a lot of interaction culturally and especially in sports. Many people grow up in one of the cities but end up living most of their lives in the other. It seems that most people in Columbus tend to support the Cleveland professional basketball and baseball teams, while people in Cleveland love Ohio State football. So there is a lot of natural interaction, and this will allow for even more. The sporting culture in this state is vibrant, and the love for the beautiful game is very strong."
Seibert agrees.
"This series is to show off the amazing grassroots talent Ohio brings to the table. Both Cleveland and Columbus markets deserve quality soccer that considers its focus back on them, the communities that support us. The sport continues to grow all over the world while Cleveland and Columbus have the strongest of fans; it only makes sense both teams square off to prove our potential."
Bain says there should be plenty of talent on the field.
"We'll have a very diverse roster across many dimensions.  We are really making our player pool fight for their spots, so we'll have a better idea of players to highlight after this series.  We won't have our entire player pool as many are still with their college teams, but our expectation is to grow as a group, learn from the experience, and enjoy the process. I also expect that despite its 'friendly' status, it will be a high-spirited match as both clubs are new, and all the players are fighting for spots/playing time. That sort of context should lend itself to an exciting game."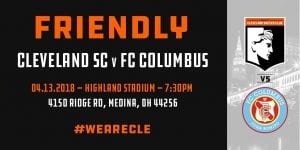 Many players from Cleveland's NPSL national championship squad return with Cleveland SC.  Long, Admir Suljevic, and Vinny Bell are likely to play in the series, but some fresh talent from an April 8th tryout could also make a major impact.
"This will be our first time together as a unit," Seibert acknowledged. "It's a huge step for Cleveland soccer supporters as they will have a chance to affiliate themselves with some strong characters on and off the pitch within our organization. Internally, we are excited to host an event to get people excited about our team."
Regardless of the outcome, these two matches will be monumental in the history of Ohio soccer.  Simply put, it is the start of something big and everyone should be there to experience it.
"The series will make it easier for Columbus and Cleveland staff to get to know each other in order to promote the sport further," Seibert continued. "We are business partners on and off the field but more importantly we are partnering with our fans to create an awesome series.  I look forward to a strong performance from Cleveland both on and off the pitch."
Bain is certainly ready for the challenge.
"As a club, we are very excited to test our players. This means it's an important step in our preparation to become the best team we can possibly be."
Ticket Links
Cleveland SC vs. FC Columbus in Medina, Ohio